LX Budget nylon wheeled skates
The Yale LX Range of load moving systems is available as `low cost' alternative to our premium range of skates.
This point loading system comprises of a steerable front and a pair of adjustable rear skates that are complete and ready to use.
The steerable front skates (LX-6F and LX-12f) are supplied complete with steering handle/towing bar and the rear skates. (LX-6/12R) are supplied with two adjustable alignment bars.
All trolleys are easy running and guarantee minimum rolling resistance.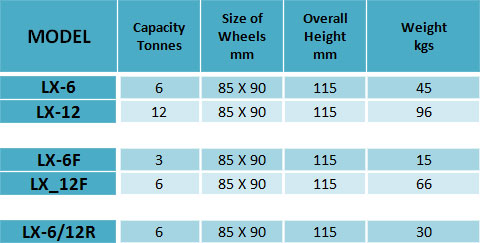 Contact us here for more information or call our friendly sales team on +44 (0)1472 358 310
Back to previous page...