SX/S Heavy duty nylon wheeled skates
This universal heavy load moving system has been designed and engineered for safe and economical transport of loads up to 100 tonnes.
By combing various trolley modules the movement of even heavier loads is possible.
Under normal conditions heavy loads (machines, construction elements and steel fabrications) are transported by means of a stable 3 point system. for the transport of exceptionally large loads or loads with an unusual centre of gravity, the modules can easily be adapted to create a 4-point system.
All trolleys are easy running and guarantee minimum rolling resistance even with the heaviest loads. Using multi-rollers (instead of single wide rollers) a low rolling resistance is achieved even on the tightest curves.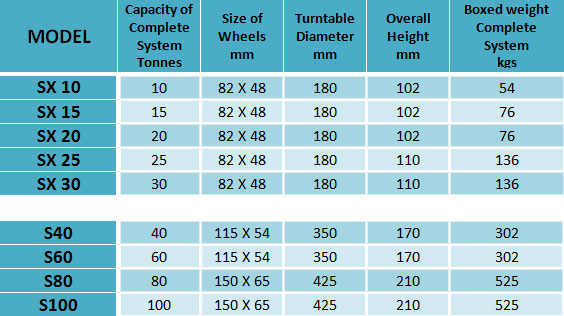 Contact us here for more information or call our friendly sales team on +44 (0)1472 358 310
Back to previous page...